Our Jammer and Rosie Puppies at 6 Weeks

Dark Fawn boy- Moosewoods RedStar Rising
"Teddy"
We'd like to see this lovely boy in a show home,
but we wouldn't mind keeping him for ourselves.
He will be cropped with a show cut.
UPDATE: 5-5-02Teddy has gone to be a service dog for a gal in a wheel chair. He's a sweet boy who learns fast and loved puppy class, so we are hoping he will do us proud. Congratulations Sharon Ann!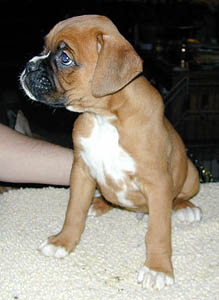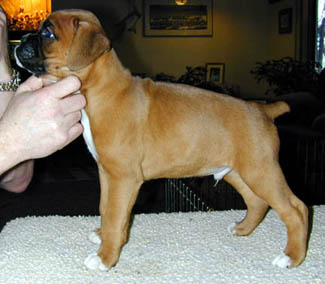 Brindle Boy
This one is a good plain show prospect!
We need more plains in the ring! He will be cropped with a show cut.
UPDATE: 4-02 Bugs has gone to new home in S CA near his Uncle, Mugsy. He will be learning OB and will hopefully make it to the conformation ring with the help of Beth Pariseau of Bix-L Boxers. Congratulations Maggie Hokanson!
Moosewoods Bugsy Malone
"Bugsy"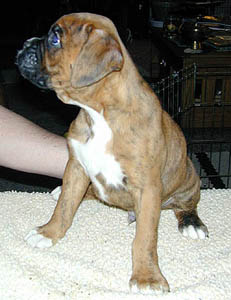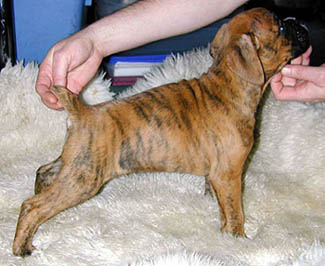 Flashy Boy- Sold to Kti Jensen of Global Boxers to be a show dog.
Moosewoods Global Connection
"Player"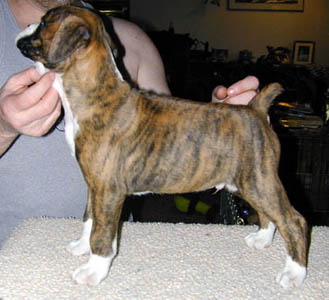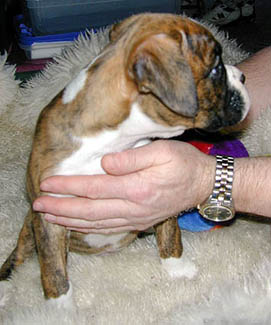 Fawn Male 2-
Sold to a family in Anchorage who wanted a *Rosie* puppy. Moosewoods Jackson July
"Jack"

Brindle Girl
we will be keeping her to further our breeding program
Not only will we be showing a plain girl, but she will go into the ring with natural ears!
Moosewoods Mia Star Saphyre
"Mia"