For the next five days we had rain off and on, mostly on. There is no such thing as "flat" land in this coastal country. Everything is broken rock and deadfall covered in a layer of moss. Therefore the rain just helps to keep everything slippery to add to the difficulty. There are different degrees for steep, usually the next being steeper than the last. By far, this was the single hardest hunt I have ever been on.
The second morning found us refreshed from all the hard work the day before. We loaded up our back packs, I swear they had to have been at least 75#'s to start. Then it was time to don the special mountain boots Pat told me I had to have, a modified ski boot, by Kolflach, made for hunting in steep and rocky country…they were worth every penny! I strapped my Browning Stainless Stalker .338 and my PSE Bow to my pack, while Pat strapped his .44 to his hip and his Mathews Bow to his pack and off we went.
After all the hard work the previous day, we were able to make Lemming Hill in just over an hour. Off came the packs, out came the bush whacking tool. The next two hours were spent making a trail straight up this gully. Some of it literally hand over fist. The higher we got, the steeper it got. Eventually the packs made it to the semi top. There was a glade that we worked our way up until we reached more Alders and Spruce. About an hour later we made it to a stream, crossed over, then went up the edge of a high mountain valley. Near the end of this valley we dropped our packs to make a camp, me in total exhaustion.
Every bone and muscle in my body was screaming. I had cramps on top of spasms. I wasn't sure if I would every get up again. We spent the next two hours hydrating, eating, and using the spotting scope on the surrounding mountains. There were lots of goats in the mountains. Mostly Nannies with Kids, but every once in a while you would see a lone Billy. It is legal to shoot any Goat, but the Alaska Fish and Game really wants hunters to harvest Billies and they provide detailed information when you pick up your hunting tags. We saw about eight Goats that afternoon from our camp.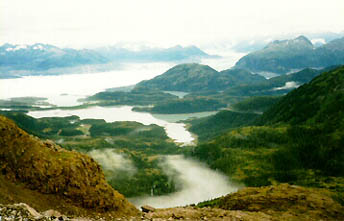 As the day was still young, and we were feeling refreshed from our rest, Pat suggested that we start the "real" bush whacking and climbing. I dragged myself upright and off we went to the next steep gully. We had less Alders and Spruce, but more Willows, Salmon Berries, and Devil's Club. The ground became more uneven and slippery. By about seven that evening we made it through the gully and finally into "goat country". For the first time, we were out of all the bear scat, I guess we went too high for them. Goats were on the surrounding mountains a little higher in elevation then we were. After a while of scouting, we headed back to camp for the night. A freeze dried meal for me and a military MRE for Pat, both never tasted so good as that evening. Pat burned all our trash before we fell asleep to avoid unwanted night guests. Time was running short, so we discussed the fact that realistically we only had tomorrow to hunt as it would take two days to pack out if we got one goat, and three days if we got two goats. Our coastal pick up was due in three days.

The morning of day three in the field found us rested and ready to go. After much soul searching, I decided to take my Browning .338 and Pat would take his Mathew's Bow. If the opportunity should arise, we could each use the other's weapon. I really wanted to use my bow, but knew time was getting short and my odds of success would drop significantly without my rifle.

A hour into our hike we were completely above tree line. We glassed anything and everything remotely white in color. High above us, on our side of the mountain, we saw a lone Billy. He was "do-able" and looked "big". So up the mountain we headed. At noon we were on a little knoll eating lunch, and below us in a high valley about 500 yards away were three Nannies, three Kids, and a young Billy. Above us and heading away was a dirty yellow old Billy climbing the rocks and digging in some snow. We spent an hour watching and eating, but could not see the big Billy from earlier. We saw 20 Goats from that one spot, all but five on our side of the mountain.

One o'clock and time to make a decision. Realistically, we needed to have an animal down before 4 P.M. or we could get stuck on the mountain. I decided to go for the small Billy in the valley below as the wind was in our favor and we could get within bow range. 30 yards down the mountain a helicopter landed on the mountain across from us, let off two guys, and they went to a radio tower we had not seen before. The Goats were not impressed so off they went, 180 degrees away from our stock. That gave us only one choice, up and around another hill and after one of the bigger Billies.

Our hunt was becoming very interesting as we came to a very steep area, almost a cliff, that had to be taken as a traverse. I stayed high and Pat went low and we both made it in one piece. I was wondering how we would do with "heavy packs" on the way back, but soon forgot about thoughts like that as I knew we were getting close. At a high gully with a wonderful small spring we decided to leave our climbing gear and packs. I grabbed my gun and Pat grabbed his bow. Up the gully we went.

Thirty minutes later we started a real stalk. Just ahead, about 250 yards away, the group of seven Goats from the lower valley were working their way up the hill. I chambered a round and was trying to get Pat's help in finding the small Billy in this group. Pat got my attention, motioned me down, and had me look up and over my right shoulder. A 90 degree turn of my head and I saw the big Billy we had first seen earlier in the morning. My heart rate was up from all the climbing, but the adrenaline kick almost knocked me off the mountain. Not only was this Goat close, about 150 yards away, he was in the middle of a large, open rock slide. I knew the time had come.
The slope angle was 45 degrees straight up. The Billy was walking away, but I knew I had a couple of minutes opportunity. I belly crawled up one small rise to get a better angle and to try and get a good brace. I am a right handed shooter, but due to the terrain I could only get a left elbow brace. As I watched this Billy come in and out of view in my scope, I was breathing too hard, and I tried to relax. I took a couple of deep breaths and the scope stopped moving so much. I had time to discuss range with Pat and decided to hold dead on the spot I wanted to hit. It was all over quickly. Billies tend to go down hard as their vitals are far forword. Downhill and quartering on, I was able to break its front shoulder and traverse a vital area. A 210 grain Nosler Partition Bullet is extremely effective and reliable when placed in the right spot. I could feel my Dad smiling over my shoulder for a job well done and all the hard work getting to this time and place.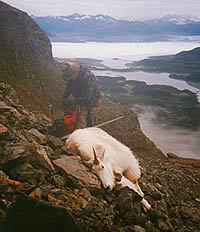 It was shortly after 3 P.M. when I shot, so we were within our scheduled time frame. Back to the packs for climbing gear, cameras, and water. By 8 P.M. we had the carcass completely boned and caped. As we headed down hill, we quickly realized that we were at our limit for weight in the back packs. When we got to the cliff face traverse we put on our mid sole crampons and they never left our feet again until we were in the tent. At 1:30 in the morning we finally made it back to camp, soaked from rain and sweat head to toe, an inch of water in our boots, and every muscle aching in our bodies. Dinner and hot drinks were shared over a single burner camp stove…I think the glow I had could have heated our meals all by itself.

The next day and a half found us taking two trips back to the canoe and on to our pick up point. All the hard work bush whacking really paid off. The bright eye thumb tacks were a life saver late that first evening as it was well past dark by the time we got everything down to the lake. We were to meet up with our boat at noon the next day, but spent a couple hours working on the Goat cape and ended up an hour behind schedule. The cape and horns were in excellent shape. The horns were perfectly symmetrical showing him to be 8 ½ years old, 8 5/8 inch in length, and 5 ¼ inch in diameter at the bases. My friends Jim, Mary and Alyess, on the boat, didn't seem to mind as they are all hunters and just wanted to hear our tale of Alaskan Mountain Goat Hunting.
---