Man did not weave the web of life, he is merely a strand in it.
Whatever he does to the web, he does to himself.
Chief Seattle
(1786 - 1866)


---

This page is for pictures of horses that kind folks have rescued. Links to personal rescue pages are also welcome (like Jazz's page.)
ALASKA

Miss Pennadeck, A 19yo Quarterhorse race mare, grandaughter of Top Deck, great grandaughter of Leo. Missing a molar on each side, she needed a special soft diet her owner couldn't provide (this was before Equine Senior came out.) The photos are taken 4 months apart.

ALASKA

Tonka Jisco's Honey Flash a Sec. A Welsh Pony aged mare. She passed through a couple of hands before she ended up at a home willing to put the time and effort into bringing her back into condition. Photos are 6 months apart.

Idaho

A 23yo Quarter Horse mare, Noel was consigned to a slaughter auction by her owners after her usefulness as a broodmare had ended, and she was discovered to have heaves. Her hip bones stuck out and every rib could be counted. She was bought by Hearts for Horses at 30 cents a pound, with an eye towards her becoming a child's first horse. She has been aquired by a loving family and given to an adoring little girl for Xmas. Now, the black mare that was discarded is treasured, cared for with more concern than the most expensive race or show horse, her supplements measured so carefully by caring little hands. Noel's Black Beauty story has happy ending, we wish they all did.
Idaho

Jet was purchased from a slaughter-buyer in October of 1998 by Heart 4 Horses. She is 16 Hands High and weighed a little over 1000 lbs. She went through the auction with her foal, the foal was sold, and the black mare went for slaughter. She stood in the pen, packed with horses, just standing quietly with her head down. She had given up. Her udder was full, and she was so thin her backbone stuck out. She looked old and tired. We soon found out that she was only 10 years old, and had the dispositon of an angel. After gaining about 160 lbs and having some much needed veterinary care, she went to her new home the first of January.

Pennsylvania


Bought from the New Holland auction for $375, Rose is an arab type pony. She was advertised as 4 years, but in truth, the thin, sickly mare was about 12 years. She had a high temperature and a cough dubbed the *new Holland Grunge*, and neglected feet, along with teeth in terrible condition and a mouth full of sores. After a month and a half, lots of antibiotics, good vet care and decent food, she is turining into a fine Pony Club horse for an 11 year old girl, and will be teaching her 9 year old brother to ride. Renamed Carmel's Rose in honor of a 35yr pony whom she was replacing, Rose is the new light in the life of a large family and the latest in a string of rescued animals.

COLORADO


This arab gelding, Dakota, was 3 1/2 when brought home from Woodland Park, CO. He was, at the time, 15.1 hands high, and did not weigh quite 400 lbs. He was kept in a 12 foot triangle space with a small stream of water running through it, and did not even have a dry place for all of him to lie down in. There was no shelter not even a tree, and he was lucky if he received 1/2 flake of hay a day. Picture 1 is the day Cody was picked up, and the second photo is 2 years later. Cody's full story can be read here: Cody's Rescue, The Little Arab That Could

West Virginia


Bought by C&M Equine Rescue at an auction, Dane was saved from the meat buyer at the tender age of approximately 8 months. He was consigned to the auction by a farm, along with several other horses in very poor condition. After 5 months of good feed and care, he's a new horse and was ready for adoption into a loving family.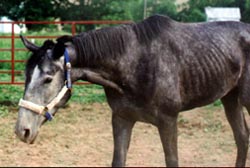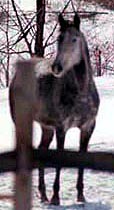 Pennsylvania
Maggie Mae is an ex-racing Thoroughbred purchased for $400 at the New Holland, PA horse auction; at that time she weighed 900 lbs and was 17H tall! Her last race was May 5, 99 where she went down on the track, blowing out her right front tendon and bruising her knee. She also had a slight bow on the left front leg. At only 4 years old, she was shipped out of Florida for meat. Today, her bows are set and healed, she's got 8 acres of wonderful pasture to play in with 4 other horses, and is in a slow retraining program.
Read more about Maggie's story.
Want to submit photos?
Send a request by email, and I will let you know what to do. msjeanne28@yahoo.com
This page in loving memory of Mr Zarzon, a more gentle and mannerly stallion I have not met. Died of malnutrition and severe rainrot, an undeserving death at the hands of a callous owner. May he be romping in green pastures full of mares and foals. The pictures are of better days with a caring stallion manager. See one of Zarzon's daughters (Missy) and grandson here.