HUNTING ALASKA
Mulchatna caribou, just a little one!
To see my latest hunt for caribou from this area, CLICK HERE Notice: page under construction!
Hunting caribou with horses in the Yanert area.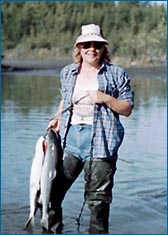 Jeanne with some nice Silver Salmon out of Jim Creek.
See more friend's hunts on page 2!
Roger's Links
Mathews SoloCam
Muzzy
Ed's Archery Page
All Outdoors Coffee Shop
State of Alaska :Alaska Bowhunting Regs
Sheep River Hunting Camps
Bow Hunting.Net News
Circle S Outfitters: alaskan
The Bowsite:Bowhunting Supersite
Bowhunter Magazine
Baxter Black
Ultimate Bulletin Boards:The Firing Line

Prince William Sound Black Bear taken with a bow.
View of caribou camp in central Alaska on the tundra. There is an abundance of surface locked water due to the permafrost.
Mountain Goat hunting in Prince William Sound. We hiked from beyond the lake in the far background.
Click on the photo to read the story of the hunt
Moose taken with a bow in the Nelchina area.

Hunting in style