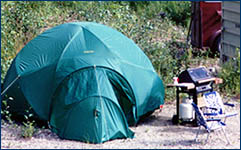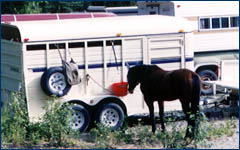 Your horse camp should always have safety first. Any projections on the trailer should be modified to make them safe (such as latches that may snag a halter.) Hay bags or nets should be tied high away from legs that may become entangled. Horses should be tied long to be able to lay down, but short enough to not get tangled in the rope. A quick release knot should *always* be used to tie the horse, and stallions are required to be double tied (see rule book for more details.) Water buckets should be secured in a manner so the horse cannot get a leg caught. Blanketing a horse is allowed. Of course, we humans are left to fend for ourselves as best we can.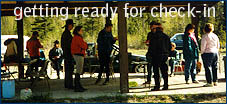 Present a clean horse for check-in. Trimmed hair is not as important as picked out hooves, and a clean coat with brushed out tail.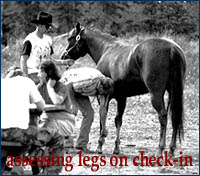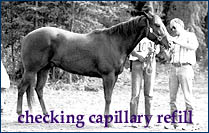 Checking legs and gums before the trot out. Keep your horse under control while the vet is examing it. Letting the horse run over the vet is a sure way to lose points!
On the trot out be sure to leave enough lead rope to the halter so your horse can move freely to be assessed. Keep both hands on the lead rope. You will be asked to circle the horse both directions, and you may use a longe line for this part of the exam.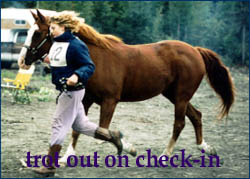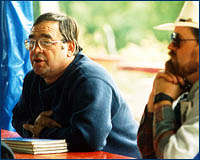 An evening ride briefing is held to inform riders about the ride. The map (sample here) is issued, and important details about the trail including timing, lunch stops, and landmarks are discussed. The judges will often, at this time, add their own comments to the briefing, and answer questions.
Then it is off to bed for riders and horses.