Competitive Trail Riding
The Veterinary Judging

P&R stands for Pulse and Respirations, two of the criteria used in determining the condition scores of your horse. Every ride will have a P&R Captain who heads up a crew of 2 person teams that will do the P&Rs at the designated stops. It is recommended that you learn how to take P&Rs on your horse, as it will help you in your conditioning efforts. Base line P&Rs are taken during check-in, and the vet judge will give you the acceptable parameters for the horse's P&R levels during that evening's ride briefing, and the number of P&R stops during the ride.


---

Condition 40%

The evaluation of condition shall include, but not be limited to the following:

Fatigue
P&R recovery
attitude and willingness
Muscle soreness
mucous membranes
azoturia
thumps
hydration and capillary refill
bowel sounds
colic
respirations
sweat and salivation
coordination
eating and drinking

During the ride, there will be a morning and afternoon P&R stop somewhere on the trail. This will usually be after a stress producing exercise like a trot in or hill climb. The recovery/outgoing P&R will be taken 10 minutes after arrival at the stop. If the horse doesn't meet the minimum recovery levels announced by the vet at the riders meeting, the horse may be held an additional 10 minutes and another reading taken. If a horse fails to recover to acceptable levels after this time, the vet may make the decision to pull the horse from the ride for the safety of the horse.

---

Soundness 45%

The evaluation of soundness shall include but be limited to:
lameness
heat
filling and pain
tender withers, back or loin
cinch or breastcollar sores
rubs
curbs
splints
ring bone
spavin
sidebone
Way of going shall be evaluated as part of soundness:

forging
interfering
scalping
over-reaching
stumbling, etc
---
Trail Ability and Manners 15%
Evaluation of manners shall include but not be limited to:
disposition
response to rider
kicking
head tossing
prancing
standing for exam or mounting
buddying up
trail wise, etc
Disqualifications:
A horse requiring treatment by a veterinarian or rider which prevents comparative evaluation during the course of the competition. Other judges must be informed of any treatment.
Unruly horses, such as those difficult to examine or judge.
A horse may be pulled for failure to meet recovery criteria as set forth by the vet judge.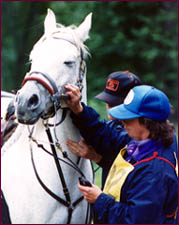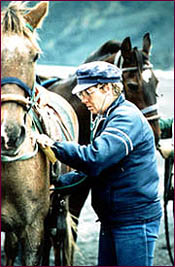 Rider showing a good way to restrain the horse for P&R. Typically, the pulse rate is taken by listening to the heart with a stethoscope.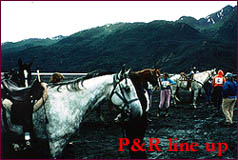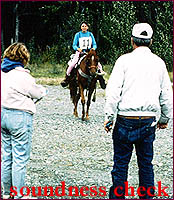 Read Dr. Throgmorton's article on Fatigue in the Equine. Article will open in new browser window; close when done.