BoxerDog Friendly *Stuff*

Here we will list some of the items and toys we have found that make living with boxers easier, fun and more stress-free.
Recommendations of proven boxer-tough stuff always welcome!
As boxer owners, we are always on the lookout for more stuff that can stand up to Boxer ownership and abuse.
Items will be rated from 1 (don't expect much) to 5 (great).
Our first item is a dog door. You may wonder why we list a dog door, but believe me, not all doors are created equal.
We live in a climate that can be brutal, with sub-zero temperatures and winds up to 70mph in winter.
We wanted a dog door for the convenience to both the dogs and ourselves, especially since Harry has never outgrown needing to go potty in the middle of the night.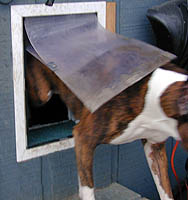 We tried a couple different doors, but now have the Hale Security Door. We bought it online, Hale Pet Doors and installed it ourselves without much trouble. It has withstood low temps and high winds without much leakage or any flap movement. It has the best flap system we have seen. We give it *5 moose*.


Next item and *very* important to us is our Portable rechargable Bissell Carpet Cleaner.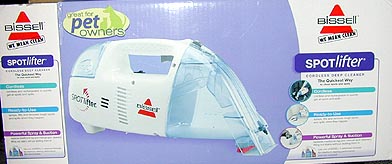 It not only works great to get *boo-boo* out of the carpet, but is also good for those wet cleanups on hard floors. A must for puppies, and a great to have for sick dogs that leave you a barf present or diarrhea. Good power for such a small thing, and spot cleans better than my big machine. We have worn out 2 and are on our 3rd one, wish they were studier.
4 moose

| About Boxers | Site Map | Main Boxer Page |