Filly with characteristics born 4-6-00 (3 weeks late)
MWF Bay Bee Britches
Her barn name is Winnie.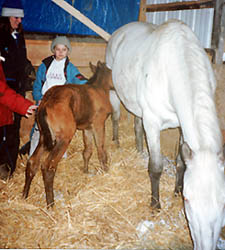 just born, can't walk yet, but already found the nipple
The kids at the barn excited about the birth. Most heard comment: ewww!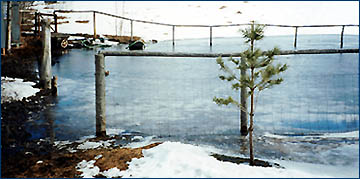 With a heavier than normal late winter snowfall, our corral was 3 feet
under water at the start of spring breakup. So lacy
was boarded at a friend's for foaling.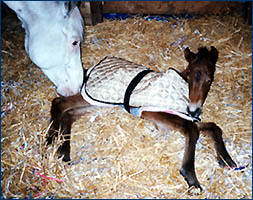 Resting and all blankied up.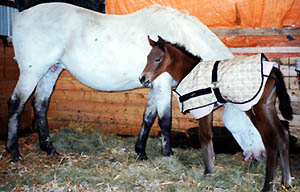 One day old, but so big!

2 days old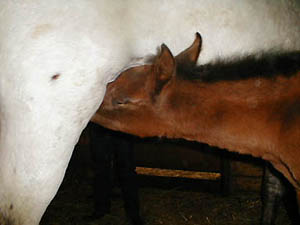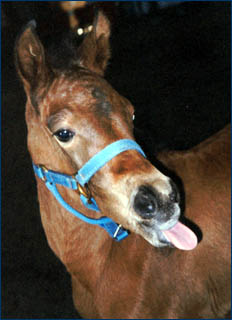 Here's what I think of people!
Winnie at one year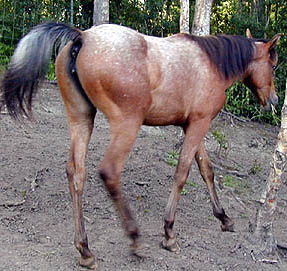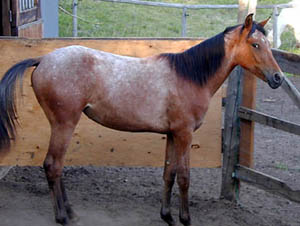 Winnie, and her big sister, Annie, are for sale to the right home.

Winnie, above, is Annie's full sister, and is the biggest foal Lacy has produced. We fully Expect her to mature at or above Annie's height. She has very long correct legs, and an even more arab influenced head than her sister. She's bay, born with appaloosa sclera, lots of skin mottling and mostly white hooves, and is slowly roaning out as she matures. She's very intelligent, but sensitive, so needs an experienced light hand. Already hauls like a trooper and will be weaned the end of Aug.
Registered ApHC and IAHA: Winnie's price is SORRY! She's sold!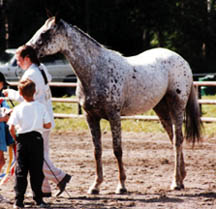 Annie, 5 years old, has been started in arena work and is green broke. She was imprinted at birth, and has been shown lightly at halter, beating full arabians. She was 16.2h last time I measured her, and has her mom's nicely shaped, tough feet. She has an arab influenced head, a deep chest, powerful hindquarter, all without being over muscled. A perfect candidate for english disciplines, dressage or an endurance prospect. Her energy level is high, she adores people, and she's a sensitive horse who will not tolerate heavy handedness. Her half brother is competing successfully in NATRC distance riding carrying my 225# husband on 60 mile rides (see pictures of Roger and Jobey at the Anchorage and Fairbanks ride links.)

Registered ApHC, IAHA, ApSHA: price: Sorry! Annie is sold!